NICHE SPORTS CONTENT THAT WILL DRIVE TRAFFIC TO YOUR BAR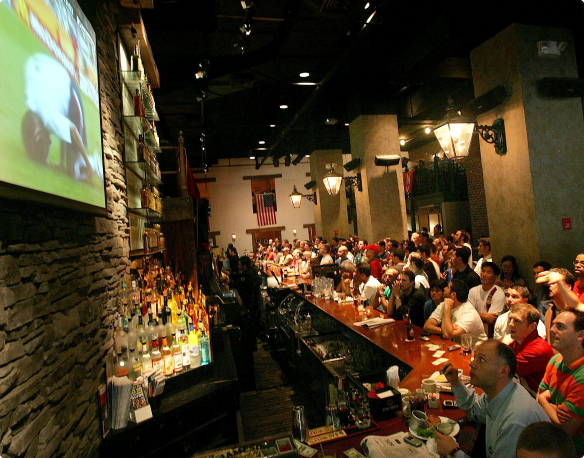 Driving traffic to your sports bar takes more than just football, baseball, basketball and hockey games. Why? Because, like you, other competitors will also be showing them at their establishment. Broadening your sports content to provide unique sports will not only drive traffic to your bar, but it will also differentiate you from your competitors.
Underrated sports content is loved and followed just as much as the four major sports, but contrasts in the target audience, which will allow new customers to find interest in your bar. Entertainment means something different to each customer, so providing all types of sports at your venue will help to attract all types of sport fans, bringing in a larger crowd.
Niche Sports That Bring a Crowd
Niche sports fall under the "anything but the 4 major pro sports." As mentioned above, they come with their own fan base and a new demographic you probably haven't met yet. If you consider your bar a sports bar, you need to appeal to every sports fan. Here are some examples of underrated sports that will drive new traffic:
Wrestling
WWE is a leader in global entertainment that delivers family-friendly entertainment to more than 800 million households worldwide. More parents and kids watch WWE's Monday Night Raw and Friday Night SmackDown together than MLB, NBA, NHL or NASCAR. WWE's social media reaches nearly 1 billion followers across all platforms, and WWE is the #1 sports channel on YouTube. WWE offers at least 12 pay-per-view events per year. The events allow for Saturday or Sunday evening storylines that appeal to younger crowds which in turn appeals to families. WWE events usually take place earlier in the night, which brings in crowds who want to watch while having family dinner and drinks for the parents.

All Elite Wrestling (AEW) on the other hand is a bit more rigid and less targeted towards families. AEW is one of the hottest brands in professional wrestling. Its blend of high-end wrestling and straightforward storytelling is what differentiates it from other brands. AEW fans have more annual income than the average American household, which makes hosting a AEW event a no-brainer for sports bars. And with its weekly Friday night show, Rampage, fans will start seeing this brand pop up more and more regularly.
MMA
Ultimate Fighting Championship (UFC) is arguably the most popular MMA brand in the world. It is the top sports property among millennials, with over 40 million UFC fans across the United States alone. UFC has created some of the most popular names in athletes, like Conor McGregor, Anderson Silva, Jon Jones, Ronda Rousey and Georges St.-Pierre, to entertainment figure heads like Dana White, Joe Rogan and Bruce Buffer. In almost 30 years, UFC has grown from a niche sport to one of the top sports brands to ever exist. Regardless of its current popularity, it in ways is still underrated compared to the "Big Four". If you are a sports bar and not showing UFC, you are missing out on an enormous demographic of fans who are finding places like yours to catch these events.
Boxing
For decades, boxing has been a popular sport that has brought massive crowds together. As with anything, the sport ebbs and flows depending on fighter popularity and media attention. Thankfully, boxing is on an upward trend thanks to companies like Showtime Boxing, DAZN, Top Rank, and PBC, to name a few. Similarly to UFC, boxing is popular content that sports bars must have in order to keep their customers happy. But, it still doesn't fall under the four top leagues. Boxing fans are different than your typical NHL, NFL, NBA, and MLB fans. It is an essential sport to showcase in your business in order to stay relevant and welcome new, diverse fan bases.
Celebrity events
In the past few years, 'celebrity events' have grown in popularity, and Triller Fight Club has had a lot to do with it. To put it simply, Triller Fight Club events are hybrid events that offer a mix of amateur, celebrity boxing along with musical acts to make for a full night of entertainment. The inaugural event in November 2020 saw Mike Tyson and Roy Jones, Jr. come out of retirement to meet in the ring. Since then, different athletes and influencers have headlined Triller events, including Jake Paul, Ben Askren, Evander Holyfield, Vitor Belfort and more. And the athletes aren't the only big names to be seen during the events. The events have been hosted by Mario Lopez, commentated by Snoop Dogg and included musical acts such as Justin Bieber, The Black Keys, Doja Cat, Saweetie, Diplo, Major Lazer, DaBaby, Lil Wayne, French Montana, Wiz Khalifa, and YG.
Golf
PGA TOUR LIVE showcases the biggest stars every week in featured groups created by the Tour to drive excitement and interest into bars and restaurants like yours. The high quality content is available exclusively on ESPN+ for Business, and features over 30 events per year and more than 1,200 hours of live golf. Because the schedule runs from Thursdays through Sundays, PGA TOUR LIVE content offers a unique opportunity for driving daypart traffic for weekday lunches and weekend brunch when nearly no other options for live sports are available.
How to Get These Different Sports
There are several ways available in helping you to get this different type of sports on your bar screens and help to attract these new crowds. Now is the time to act fast and get the new content before your competition does. Here are the top ways to access this content:
Free-to-Air
This content refers to the offers of WWE & AEW weekly shows on cable TV, like AEW Dynamite every Wednesday at 8 p.m. ET on TBS, WWE's Monday Night Raw on every Monday at 8 p.m. ET, on USA Network & WWE's SmackDown on every Friday at 8 p.m. ET on Fox. By having this free-to-air content on in your bar, you are telling your customers that you show this type of content. It will help to transform a casual fan into a loyal fan when it comes time to sow the PPV or tentpole events.
Subscriptions
Adding subscriptions at a fixed-monthly rate is unique to how many people you can fit in your bar. This is not only cost effective, but it also gives you a lot of content at your disposal to share with customers. Subscription services such as ESPN+ for Business, Showtime Boxing Series, and WWE subscription will provide you with the exciting content you need in order to positively deliver for and reach your desired customer groups.
Pay-Per-Views
Adding these PPV events is based on different rate cards depending on the event and your Fire Code Occupancy (FCO). This content varies based on UFC, PPV Boxing, AEW, Rough N' Rowdy, Triller Fight Club, and Triller Triad Combat. To find out the price for your business, you can reach out to Joe Hand Promotions for your quote.
Trust us to help you get the content you want in your bar!